IMPACT Wrestling's first pay-per-view event of 2020 goes down LIVE tonight at 8pm ET from The Bomb Factory in Dallas, Texas. We are IMPACT Wrestling, we are Hard To Kill.
---
Sami Callihan vs Tessa Blanchard for the IMPACT World Championship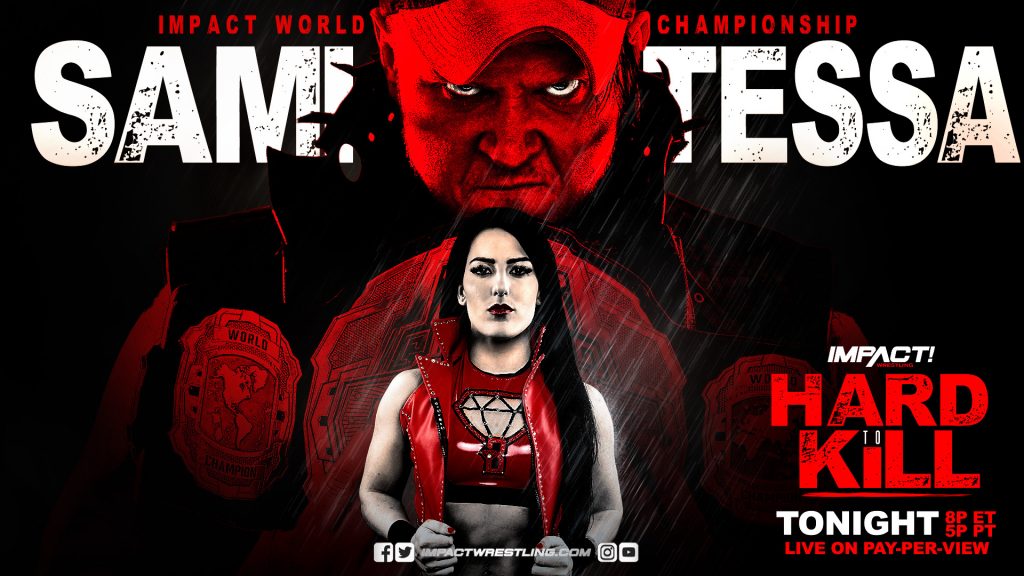 After Tessa Blanchard's incredible performance in the Elimination Challenge, the next chapter of this storied rivalry is set to unfold at Hard To Kill. However, this meeting will be different than their previous bouts because this time, the IMPACT World Championship is on the line. This match will mark the first time in professional wrestling that a woman is challenging a man for the World Championship LIVE on pay-per-view. Tessa Blanchard and Sami Callihan are no strangers to each other, having competed in some of the most compelling matches of 2019 but what will they be willing to do for IMPACT Wrestling's most prestigious prize?
---
Taya Valkyrie Defends the Knockouts Championship against Jordynne Grace & ODB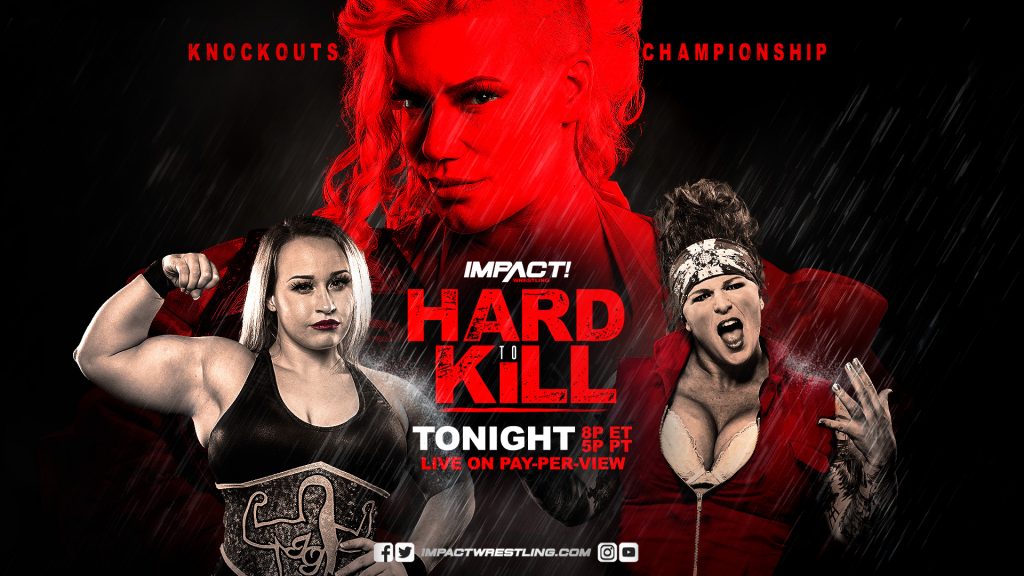 What was originally scheduled as a singles match between Jordynne Grace and Taya Valkyrie for the Knockouts Title at Hard To Kill has now become a three-way bout with the addition of Knockouts veteran ODB. Jordynne first earned her opportunity when she pinned Taya in a six-Knockout tag team match on the premiere of IMPACT on AXS. Then, ODB returned on a recent episode of IMPACT and scored a shocking upset victory over Taya in a non-title main event. Taya has faced adversity in her Knockouts Title reign before and was still able to come out on top. After all, that is why she is the longest-reigning Knockouts Champion of all time. Will we see a new queen of the Knockouts in Dallas?
---
Trey Challenges Ace Austin for the X-Division Championship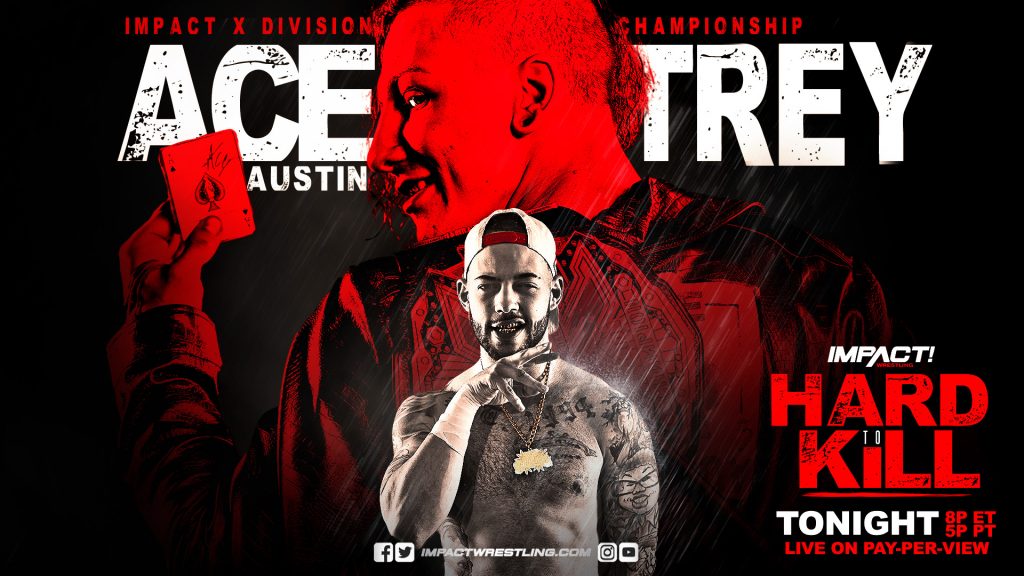 In a bizarre turn of events, Trey may actually regret becoming the number one contender to Ace Austin's X-Division Title. Since he was unsuccessful in trying to sleep with Alisha Edwards, Ace has now turned his attention to Trey's mother who has been attending recent episodes of IMPACT!. Everyone knows that Trey's mom has got it going on but it seems that Ace likes her a little too much. We know what Ace's intentions are – to sleep with Trey's mom and get in the head of Trey before their X-Division Title match at Hard To Kill. Can Trey remain focused on the task at hand and capture X-Division gold on January 12th?
---
Eddie Edwards Collides with Michael Elgin for Call Your Shot Trophy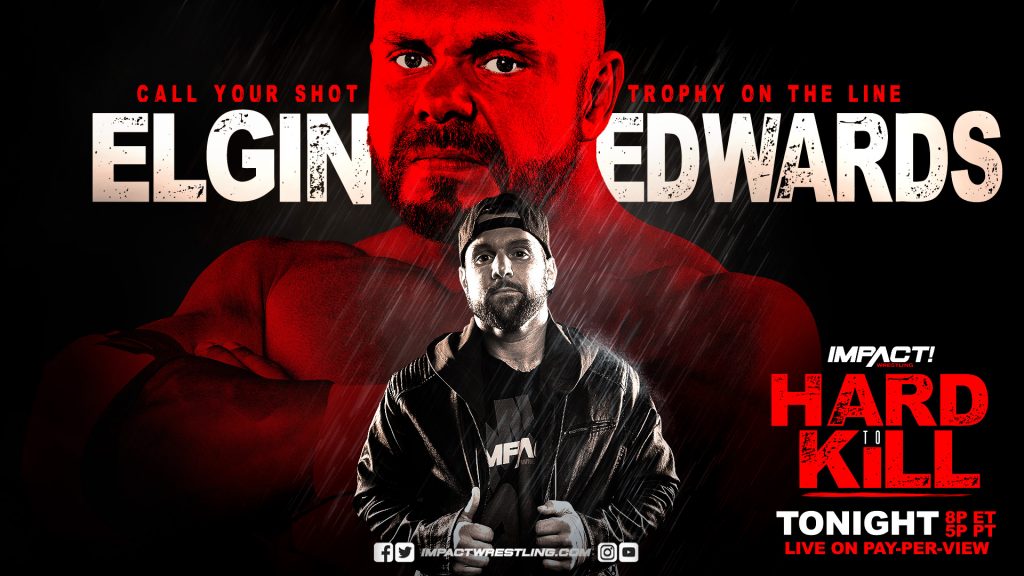 After inserting himself into Eddie's singles match with Brian Cage recently on IMPACT!, Michael Elgin now has the opportunity to face Eddie Edwards at Hard To Kill. But to Elgin, this match is about more than just bragging rights – it's about Eddie's Call Your Shot Trophy. Elgin wants to get back in the hunt for the World Championship and Eddie's Call Your Shot Trophy awards a title shot of the holder's choosing. In a backstage interview with Gabby Loren, Elgin laid out the challenge for Eddie to put his Call Your Shot Trophy on the line in their bout at Hard To Kill and after defeating Eddie in a singles match on IMPACT!, the stipulation was made official.
---
The North Put the Tag Team Championships on the Line Against Rich Swann & Willie Mack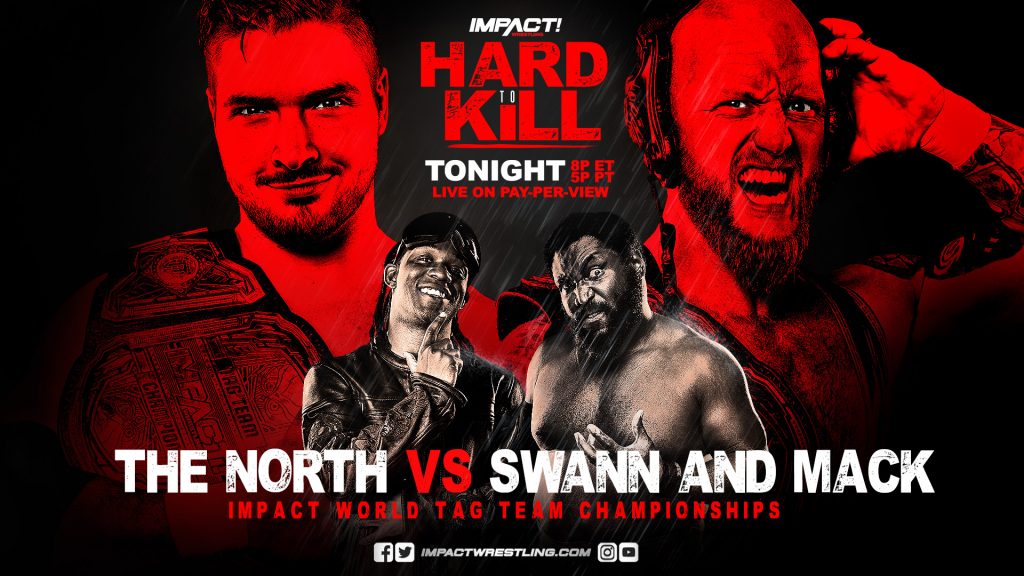 Recently on IMPACT!, Rich Swann overcame the odds once again. In a Tag Team Open featuring Rich Swann and Willie Mack, oVe, the Rascalz and Reno Scum to crown new number one contenders for The North's Tag Team Championships at Hard To Kill, Willie Mack suffered an injury on some high risk offense. Willie was not cleared to compete in the remainder of the match by Dr Ariel, leaving Swann to fend for himself. In a miraculous performance, Swann not only finished the match on his own but pulled out the victory at a huge numbers disadvantage. Now, Swann and Mack will challenge The North for the Tag Team Championships, January 12th on pay-per-view.
---
Brian Cage vs Rob Van Dam for the First Time Ever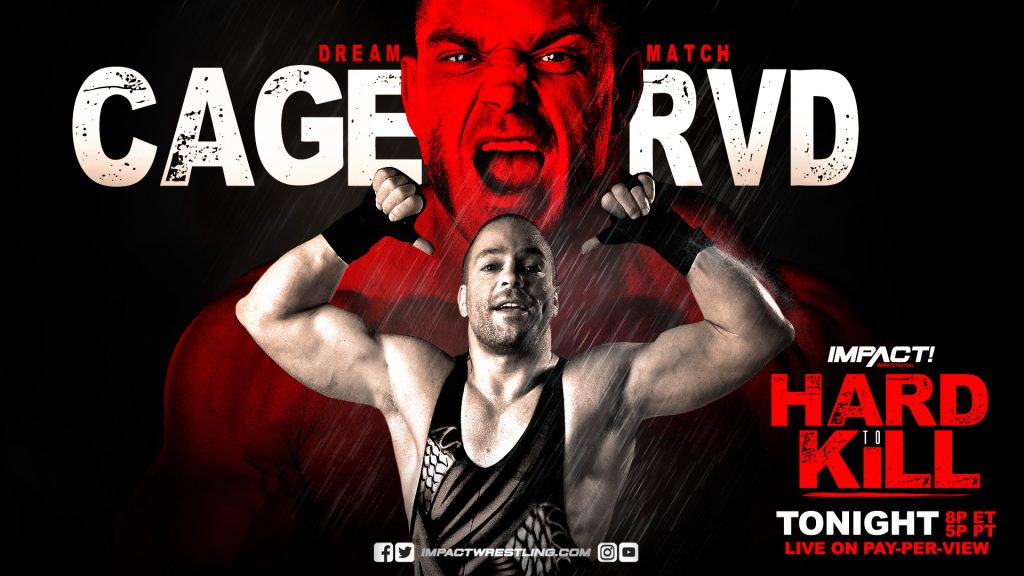 This match came about after RVD rudely interrupted a sit-down interview that Jimmy Jacobs was conducting with Brian Cage on a recent episode of IMPACT!. Cage was talking about what was next for him in IMPACT Wrestling after losing the World Championship to Sami Callihan. Now, Cage knows what lies ahead – a dream match with Rob Van Dam on pay-per-view. RVD's new attitude has been rubbing people the wrong way across the entire IMPACT Wrestling roster. Now, Brian Cage has a chance to something about it.
---
Madman Fulton vs World's Most Dangerous Man Ken Shamrock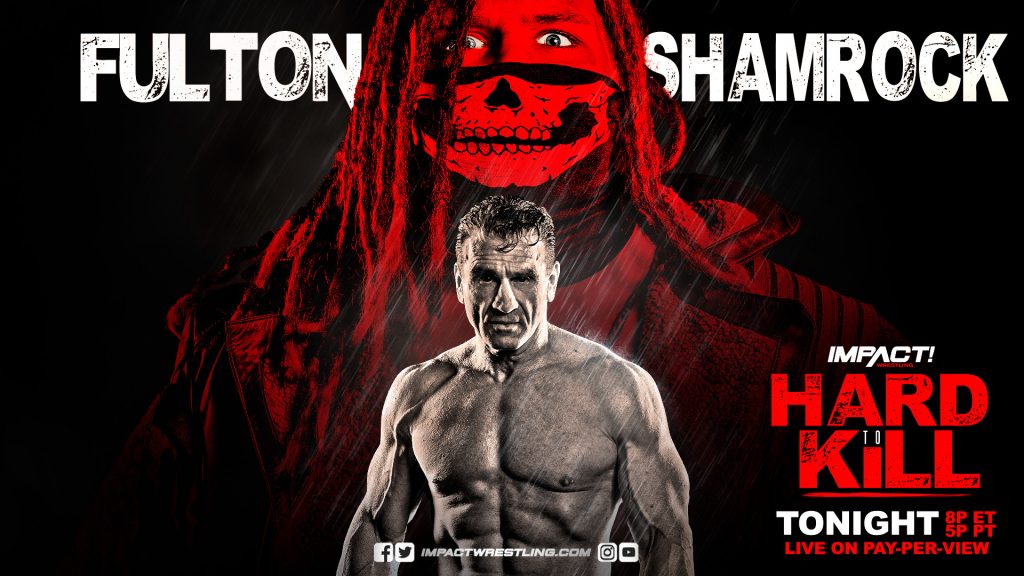 In recent weeks, Ken Shamrock as joined forces with Tessa Blanchard and for oVe, that's a problem. After multiple brawls involving the MMA legend and Madman Fulton, the two will now meet in singles competition on pay-per-view. Since returning to IMPACT Wrestling, Ken Shamrock has stepped into the ring with some of the best talent IMPACT Wrestling has to offer. However, he's never faced anyone like the Madman. At times, there's no controlling Fulton and at Hard To Kill, that may spell the end for Shamrock's return.
---
Moose vs Rhino to See Who Rules the IMPACT Wrestling Kingdom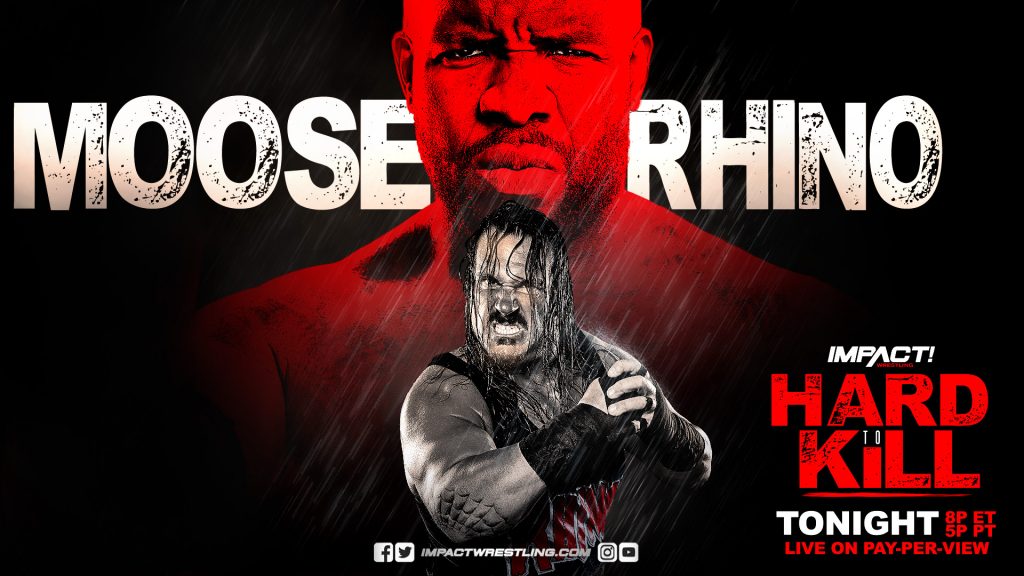 It all started with a simple verbal exchange. On a recent episode of IMPACT!, Moose told Rhino that he should have come to him for advice after losing to RVD in an Old School Rules Match. After all, Moose was victorious over The Whole Dam Show last summer at Slammiversary. Rhino doesn't like being told what to, causing a huge brawl to erupt between them in the backstage area. Rhino got the upper-hand and delivered a vicious Gore to the self-proclaimed greatest multi-sport athlete of all time. Later in the night, the two were involved in another brawl after security could not keep them apart. At Hard To Kill, there will be no security when Moose and Rhino are unleashed in what is sure to be a wild collision. It's the Spear vs the Gore – who will reign supreme?
---
Stay tuned to IMPACTWrestling.com and our social media channels for more Hard To Kill news.