Start your 30-Day Free Trial to IMPACT+ and watch the replay of No Surrender.
IMPACT joins forces with The Wrestling Revolver for No Surrender, live from oVe's hometown of Dayton, Ohio.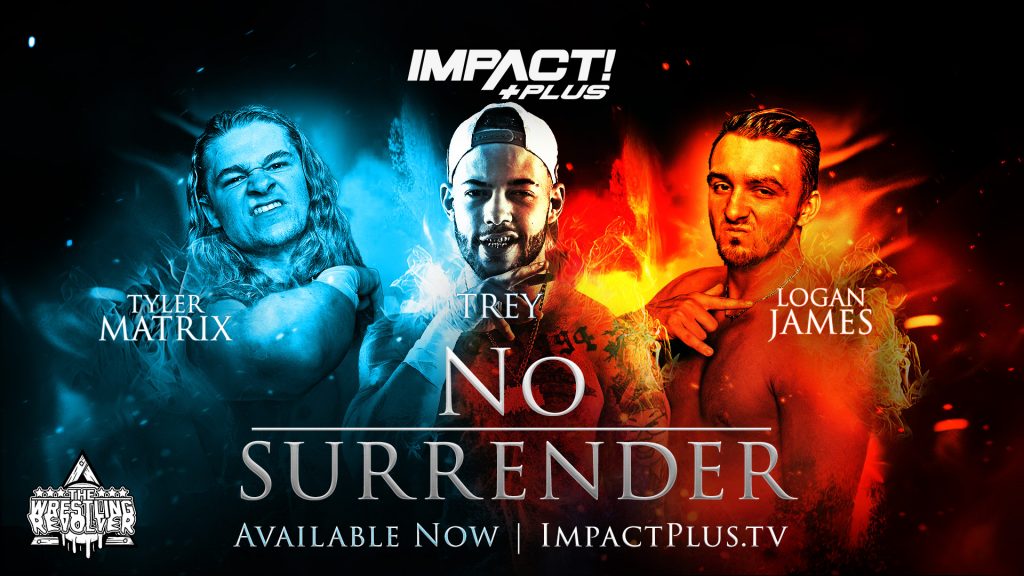 Trey takes James off his feet with a dropkick. James hits Matrix with a double foot stomp. James dives to the outside, taking out both of his opponents. Trey connects with a Moonsault to the floor. Trey locks James in a submission while hitting Matrix with a Northern Lights suplex for a near fall. Trey hits James with double knees off the top to win.
Trey def Tyler Matrix & Logan James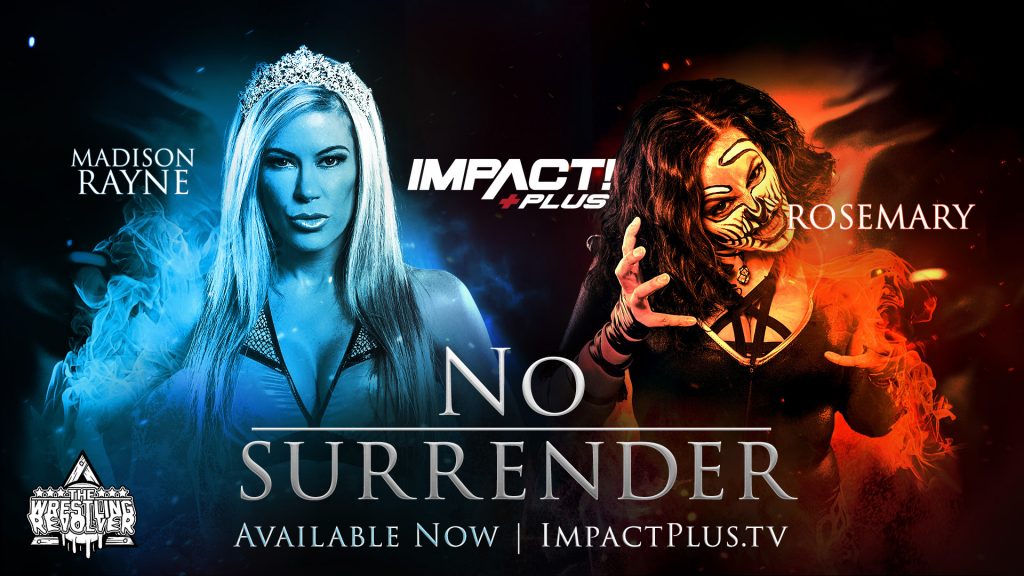 Before the match gets underway, Madison tries to get Rosemary to lie down for her but she refuses. Josh Mathews notes that this is a first time ever meeting between Madison and Rosemary. Madison hits multiple knee strikes. Rosemary turns it around with the Slingblade. Madison hits a Crucifix Bomb, followed by a big boot but Rosemary returns from the dead. Rosemary hits a modified DDT to win.
Rosemary def Madison Rayne
Jeremiah is speaking his mind in the ring when Rhino interrupts. Rhino hits Jeremiah with the Gore to pick up the quick win.
Rhino def Jeremiah
Post-match, Clayton Gainz jumps Rhino from behind and Rhino's originally scheduled match is underway.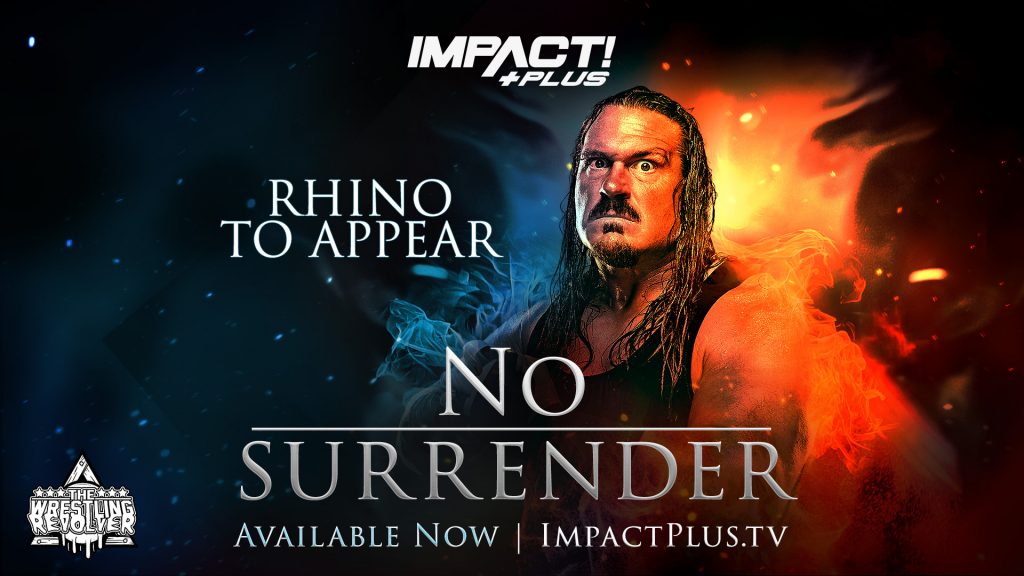 Gainz hits a splash out of the corner for a two count. Gainz wears down Rhino with a headlock. Gainz attempts Splash Mountain but Rhino avoids it. Rhino comes back with multiple clotheslines and a belly-to-belly suplex. Rhino connects with the Gore to win.
Rhino def Clayton Gainz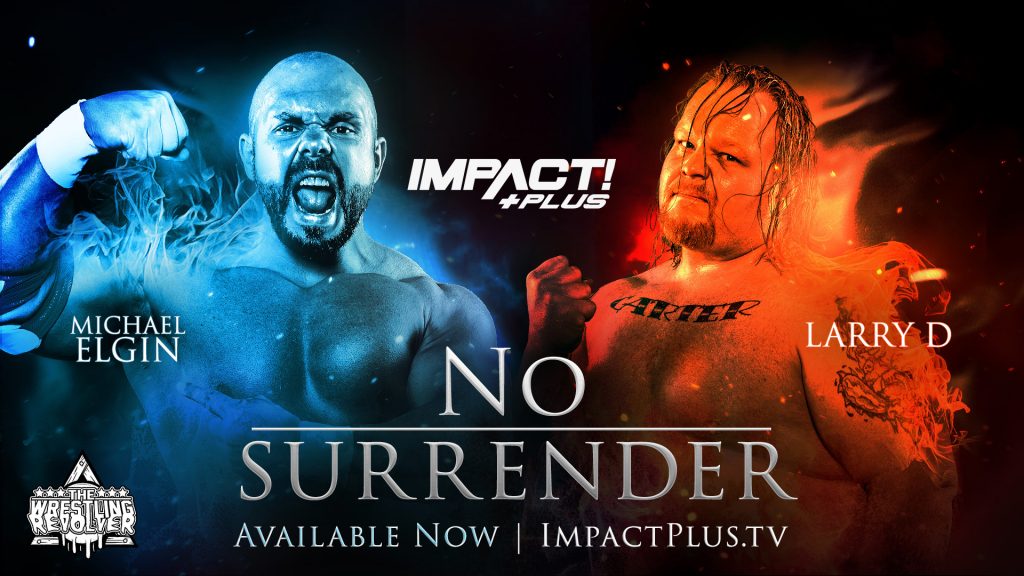 Elgin takes the big man off his feet with a German suplex. Elgin lays in the chops on the ropes. Larry connects with a spinebuster to build momentum. Larry hits a splash for a two count. Elgin crushes Larry with a huge clothesline but it's not enough. Larry hits a clothesline of his own as he almost scores the upset. Elgin connects with the pop-up powerbomb, followed by more clotheslines to put Larry away.
Michael Elgin def Larry D
After the match, Scott D'amore offers Larry D an IMPACT Wrestling contract.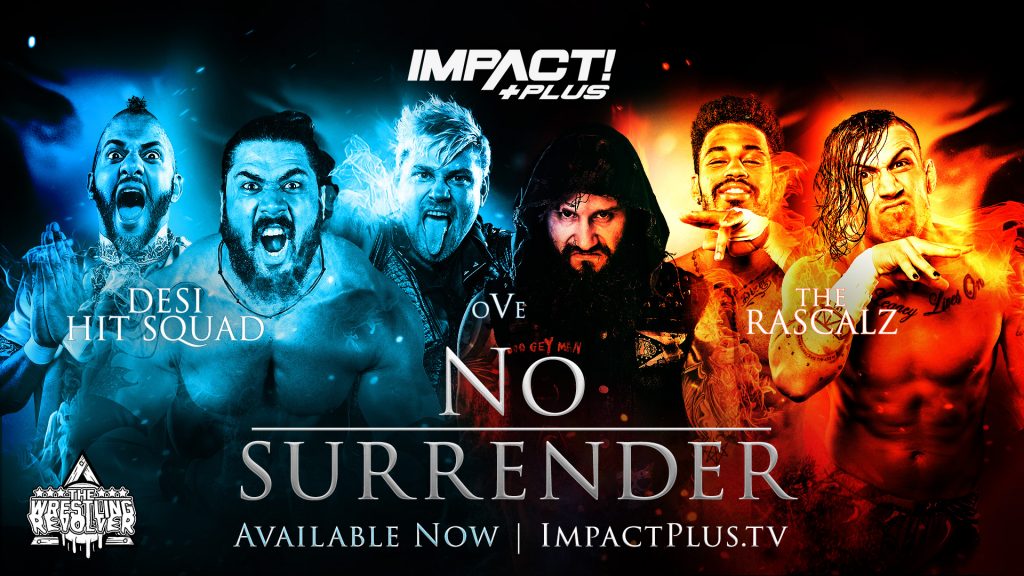 The Desi Hit Squad wear down Jake Crist, preventing him from making the tag. Jake builds momentum by sending Rohit into the corner, then hitting Shera with an Enzuigiri. Jake tags Dez who goes on the attack. Wentz hits Shera with a Swanton off the top, followed by a corkscrew from Dez. Dave and Jake Crist hit Rohit with the oVe spike piledriver to win.
oVe (Jake & Dave Crist) def Desi Hit Squad (Rohit Raju & Mahabali Shera) & The Rascalz (Dez & Wentz)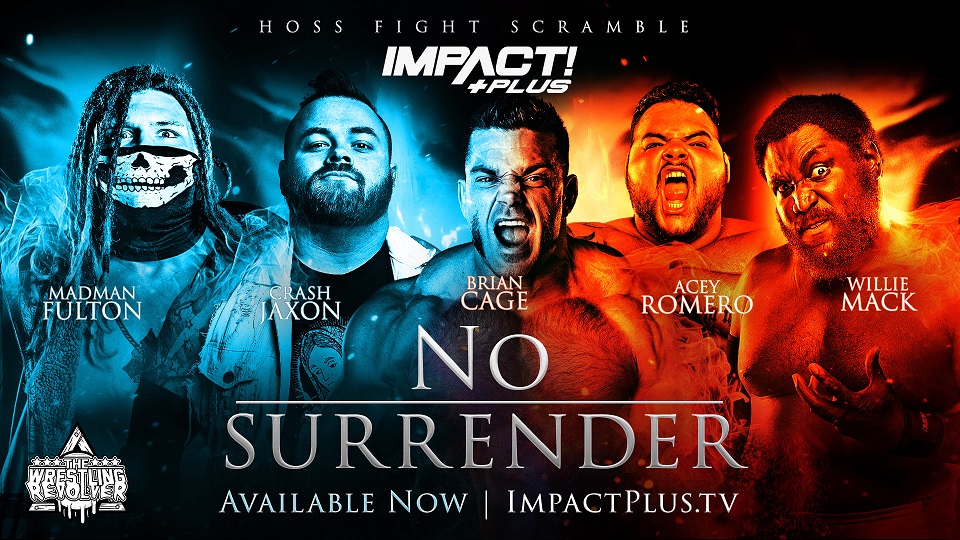 Fulton hits Willie with a tilt-a-whirl slam. Cage connects with a buckle bomb on Jaxon, followed by a German suplex. Acey dives through the ropes, crashing into Cage on the floor. Jaxon is next to fly when he soars over the top to the outside. It doesn't stop there as Willie hits a Tope Con Hilo. Fulton hits Jaxon with back-to-back chokeslams. Willie connects with a standing Moonsault on Fulton. Cage takes Fulton from the apron back inside the ring with a vertical suplex. Willie hits Jaxon with a Stunner but Acey breaks up the pin attempt. Fulton hits a top rope elbow drop on Acey to score the victory.
Madman Fulton def Acey Romero, Willie Mack, Brian Cage & Crash Jaxon – Hoss Fight Scramble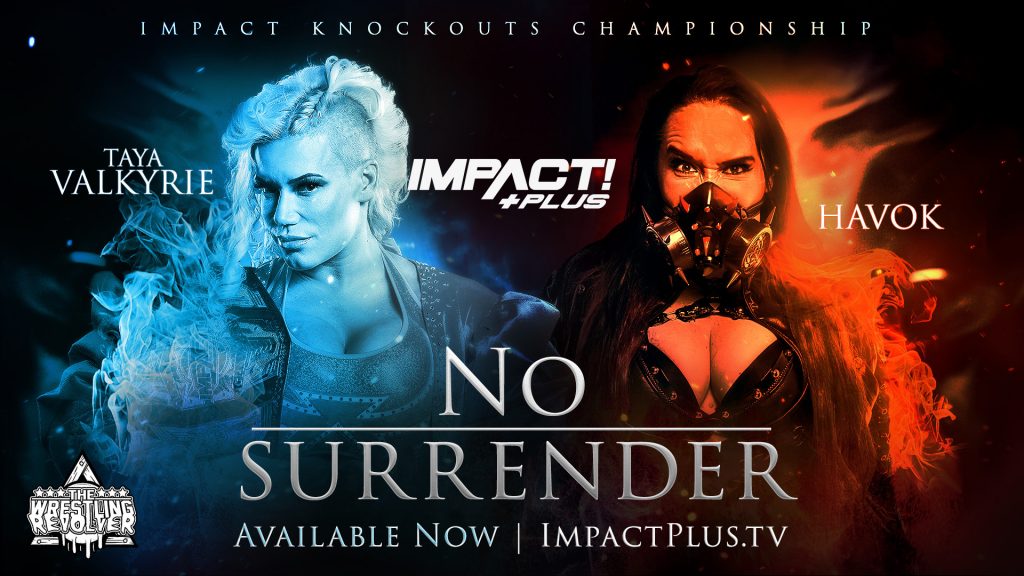 Havok pummels Taya in the corner with a series of strikes. Taya targets the knee of Havok with a submission. Havok attempts the Tombstone Piledriver but Taya fights out of it. John E Bravo pulls Taya to safety. Havok goes after Bravo but Taya clobbers Havok in the back with a steel chair, causing the disqualification. Havok takes out Taya with a vicious Chokeslam. Havok wins the match but Taya escapes with her Knockouts Championship.
Havok def Knockouts Champion Taya Valkyrie w/ John E Bravo by Disqualification – Knockouts Championship Match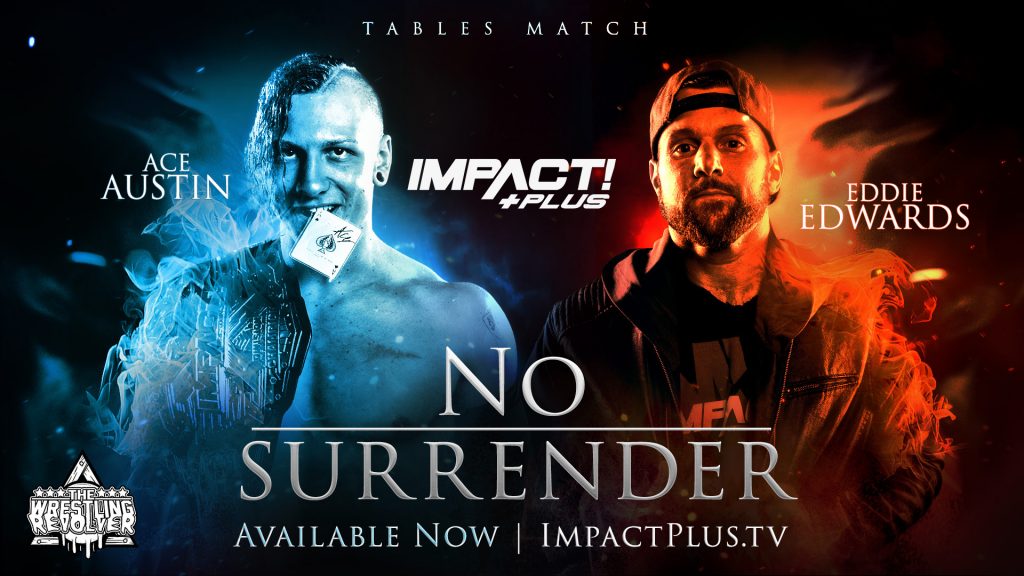 The only way to win this match is to put your opponent through a table. Eddie charges towards the ring and takes control right off the bat. The fight spills to the outside as Eddie sends Ace crotch first into the steel guardrail. Ace jumps off the apron but Eddie cuts him off by launching a table into his body. Ace turns it around with a steel chair shot. Ace targets Eddie's previously injured eye with his magic stick. Ace attempts to Irish whip Eddie through a table but Eddie counters and sends Ace into the turnbuckle. Eddie impales Ace on the legs of a table. Ace slices Eddie's eye with his laminated card, followed by another shot with his magic stick. Eddie sends Ace flying off the top through a table on the floor to win.
Eddie Edwards def X-Division Champion Ace Austin – Non-Title Tables Match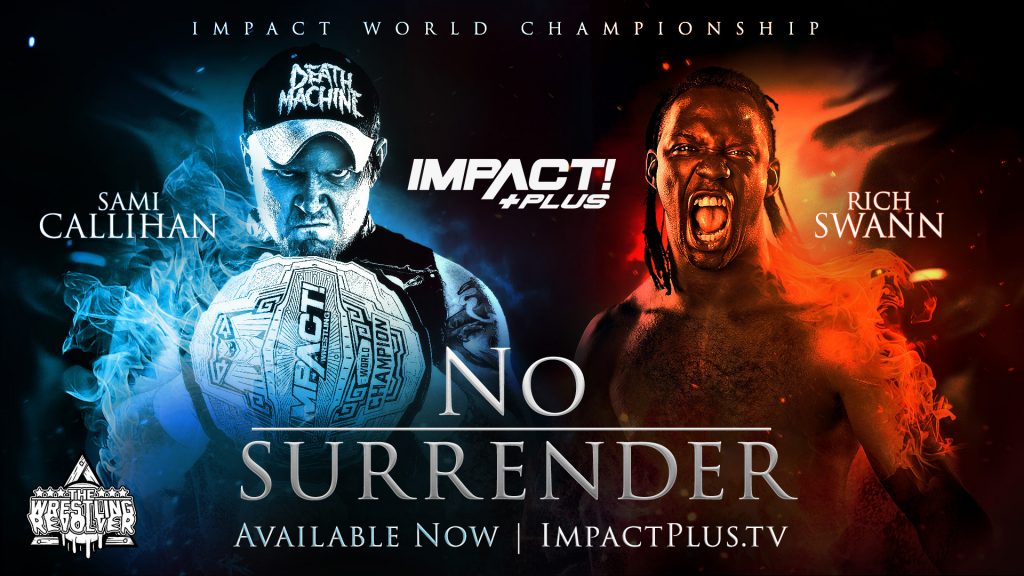 Swann takes control with three dives to the floor. Callihan chops Swann but Swann comes right back with a strong chop of his own. Callihan turns Swann inside out with a sick clothesline. Callihan spits in the face of Swann but that prompts him to counter with a superkick. Swann hits a big clothesline to start building momentum. Swann connects with a roundhouse kick for a two count. Callihan catches Swann in mid-air and drives him into the mat with a Death Valley Driver. Swann hits a standing Moonsault for another near fall. Callihan avoids a top rope Moonsault, allowing him to hit a sitdown powerbomb but Swann kicks out. Callihan almost breaks the neck of Swann with a piledriver on the apron but somehow, Swann still kicks out. Callihan hits another piledriver, this time off the top, to win the match and retain the World Championship.
World Champion Sami Callihan def Rich Swann – World Championship Match